Bonsai trees are gifts that give all year long! Shop a selection of aged Juniper trees at great prices.

Each bonsai tree is potted in a glazed, ceramic container which may include naturally collected mosses and/or decorative landscape pebbles and a multi-colored, textured rock accessory. All orders arrive with an easy-to-care-for instruction pamphlet.

10% Discount when you purchase 3 or more live trees! To receive a 10% discount on your purchase of three (3) or more live trees, simply type in the word "tenpercent" in the coupon code field when you checkout. The computer will automatically make the 10% discount adjustment for each tree.
Risk Free Guarantee
Ordering from us is risk-free. If you are not satisfied with your tree when you receive it, return it within 1 week of receipt and we will provide you with a replacement, exchange or full refund. However, a 20% restocking charge will apply when trees or hard goods purchased in error are returned to us for credit or exchange.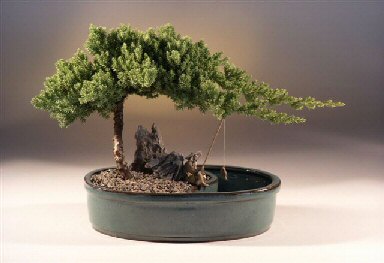 Recommended Bonsai Trees
Looking for an easy-to-care-for tree? Donít have a "green thumb"? Check recommendations for trees that do well in less-than-favorable conditions: low indoor lighting, inexperienced gardeners, etc.

Artificial Trees
Donít have time to care for living trees but you love the look of bonsai? Check out our artificial trees. You wonít know the difference - except that you wonít have to water them!

Fountains and Waterfalls
Each fountain and waterfall is simple yet elegant. A decorative slate is handcut to shape and size and is permanently mounted to re-create the spirit and beauty of mountains and water. The bowl will not leak or seep. Recirculating pump included.

Books & Videos
We offer a variety of books containing expert advice on growing, training, and caring for bonsai trees, for both beginning and experienced growers.